Erster und leider einziger Besuch im Offroadpark "Böser Wolf" vom 17.-18.06.2017 mit meinem best buddy Matt Ball und seinem 2015er Jeep Wrangler Rubicon (3.6l V6 | US-Version) und unserem 2013er Jeep Wrangler Sahara (2.8 l Diesel).
---
https://youtu.be/wVyQU8vlxGc
---
Playing in a small Pond
Matt verlor bei der ersten Durchfahrt sein neues Nummernschild, das nicht sehr gut befestigt war. Nach einiger Zeit und etwas Hilfe fand er es jedoch wieder. Dass ein Nummernschild verloren geht, erlebte ich schon im Jahr 2014, bei meinem ersten Besuch im Offroad Park, als meinen Begleiter Lothar das gleiche Schicksal ereilte. Dieser fand das Nummernschild jedoch nicht selbst wieder, es wurde von anderen Besuchern gefunden und an der Information abgegeben.
---
---
Off-Road
---
---
Der Jeep J8 des Offroad-Parks
---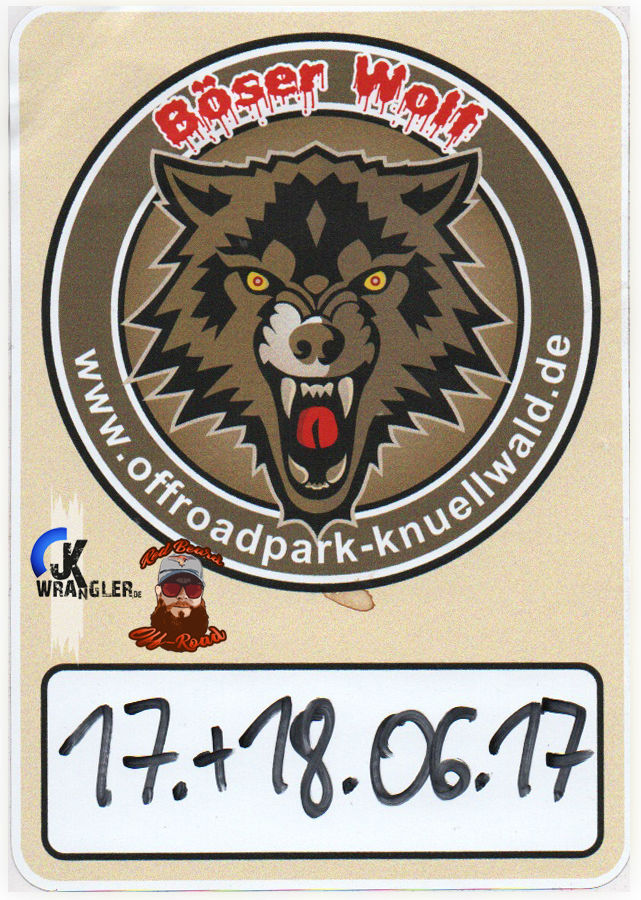 ---
Camp Site
Ich verbringe die Nächte im Offroad Park gern abseits der offiziellen Camping Area, die in der Regel immer überlaufen ist. Ein zweiter offizieller Stellplatz, allerdings ohne Strom und ohne Duschcontainer ist hingegen nie belegt, sodass man dort seine Ruhe hat. Für den Besuch im Offroadpark wähle ich gern folgendes Camping Setup: 750kg Anhänger, bestückt mit einem Feldbett und Moskitonetz, ein Faltpavillon mit Seitenwänden für schlechtes Wetter, BW-Klappstühle, Tisch und Alu-Kisten mit entsprechendem Camping Equipment.
Dinner & Breakfast
Typisch amerikanisch und ganz nach meinem Geschmack ging es bei diesem Besuch natürlich zu, kommt Matt doch aus den USA und brachte aus dem PX Wiesbaden einige Leckereien mit. So grillten wir saftige Burger, aßen Baked Beans dazu und hatten auch zum Frühstück am Sonntagmorgen schmackhaften amerikanischen Bacon in der Pfanne.
---
Jeep Grill Edition | Fire Q
Die Jeep Grill Edition bekam ich freundlicherweise vom Hersteller Fire Q kostenlos zu Testzwecken übersandt und dieser Grill darf bei keinem meiner Off-Road Abenteuer fehlen, ist er doch durch sein kleines Packmaß und den schnellen Aufbau extrem nützlich.
---
At home in the backyard
---
Cleaning the Jeeps
Vor Ort gibt es die Möglichkeit, die Jeeps für ein bis zwei Euro mit einem kräftigen Hochdruckreiniger zu waschen, bevor man wieder auf die Straße fährt. Das bringt zwar nur bedingt etwas, da der Waschplatz selbst im Dreck steht, sodass der Rest dann ohnehin zu Hause erledigt werden muss.
---
STATUS: February 02nd, 2019
RESPECT THE COPYRIGHT!