---
---
Erster Besuch des Offroadparks "Böser Wolf" vom 12.-13.04.2014 mit unserem erst wenige Monate altem 2013 Jeep Wrangler Sahara noch in "stock conditions" im Knüllwald. Weitere Informationen zum Offroadpark "Böser Wolf" finden sich auf dieser Webseite unter der Rubrik Offroadpark Adventures.
Jeep Off-Road
---
Hyundai Terracan Off-Road
---
Tree Bole Bridge
---
The Pond

Lothar lost his License Plate after a few times fording the pond, so he had to go to find it. That was funny. He didn't find the plate in the pond by himself, so he was lucky to get the plate back at the information center of the off-road park.
---
Short video about having fun in "the pond" and crossing "the tree bole bridge"@ OFF-ROAD PARK BIG BAD WOLF
---
---
Tiny Hills
---
---
---
Our 2013 Jeep Wrangler SAHARA
---
---
Military Vehicles
---
Land Rover and other Off-Road Vehicles
---
Recovery of a Land Rover Discovery
---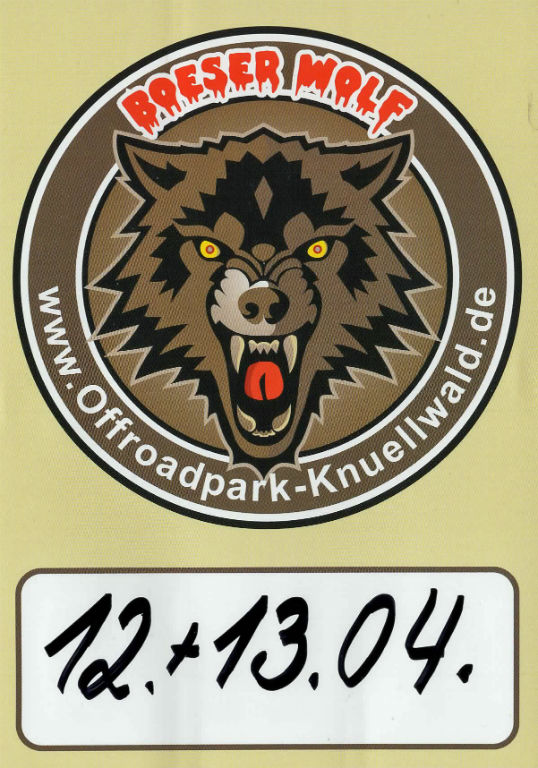 ---
The Campsite
Als Einzelperson ist die Übernachtung im Jeep eigentlich kein Problem, das Platzangebot ist ausreichend, wobei ich mit 170 cm Körpergröße nicht viel Platz brauche. Als Unterlage nutze ich eine selfinflating mattress der US-Army für schmales Geld und darüber eine Rosshaarmatratze der deutschen Bundeswehr. Auf dem Bild ist außerdem ein BW-Schlafsack zu erkennen, den ich mittlerweile gegen einen zivilen Daunenschlafsack getauscht habe, welcher mir das Liegen auf der Seite ermöglicht. Der wasserdichte Duffle-Bag von Tatonka passt von der Größe her perfekt neben den Schlafplatz und ermöglicht leichten Zugriff auf notwendige Utensilien und Wechselkleidung.
---
Hyundai Terracan with roof top tent at the campsite
Wir entschieden uns bei unserem ersten Besuch, auch in Unkenntnis über die Option anderer Stellplätze auf dem Gelände, für die Übernachtung auf dem größten Stellplatz in der Nähe der Anmeldung. Dieser ist mit einem Dusch- und WC-Container ausgestattet und es gibt sogar die Möglichkeit, Strom zu erhalten, wenn man diesen benötigt. Sicher bin ich mir bei dieser Option aber nicht. Der Platz ist naturgemäß immer gut besucht und Ruhe findet man hier eher nicht, dafür jedoch interessante Gespräche.
---
Best Picture Slideshow made by Lothar S.
---
---
Engine bay of my Jeep Wrangler after that funny weekend…
---
STATUS: February 2nd, 2019
Respect the Copyright!